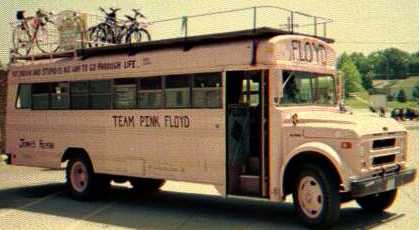 Darkis Lunas (Team Pink Floyd) This bus is a simplistic yet bold statement as who the bus is. The bright pink hull makes it easy to spot no matter where it sits and playfully puns its name on the front of the bus by using one word: "Floyd"
---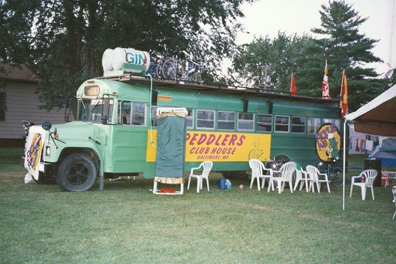 Fermuntus Cucumbus (Pickle Pub Riders) This small bus creates business by being a moving advertisment for the establishment advertised. A very distinct logo with a very distinct mascot that has been known to be walking the camping areas.
---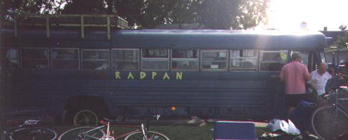 Partius Nocturnus (Team RADPAN) The sleek midnight blue bus stresses the meaning of the teams' purpose and its acronym (Ride All Day Party All Night). It's simplified but camoflaouged during the evening hours, exhibiting The Gestalt Principle of Camoflauge and mental visualization.
---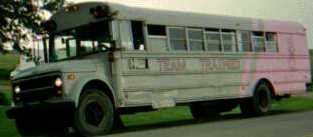 Mornigus Afteris (Team Trashed) The color scheme of this vehicle reminds us of the cliche, "Morning After" of a large party. The pink represents calmness as the grey represents the sickness or the color within one's face the next morning.
---
|Back|Home|Next|