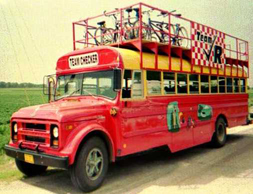 Redus Whitus (Team Checkered) Again, this bus relates to Gestalt's Principle of Visual Camoflauge, in which the red and white patches of the bus bounces light as well as radio waves that creates a bus undetected by experts (ie World War 1 warships). There is also an amusing play on words with the large check mark and the addition of the "R".
---
Limus Lumus (Team Lumschavok) This bus treats our eye with a pleasant green. One that is not too bright yet not too olive. The blue logo ads a touch of professionalsim as well as sleekness as found withing various logos of the mid 90's to the turn of the millenium. It contrasts the green quite well.
---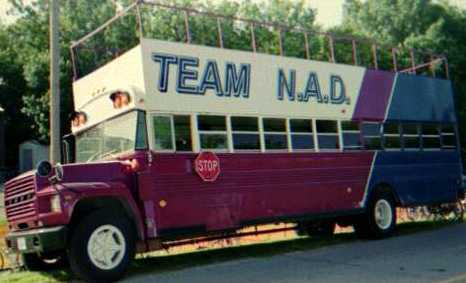 Purplis Sacis (Team NAD) The bus shown here, is a nice professional design in which the bus may double as a traveling billboard thanks in part to the raised second level for bicycle storage.
---
Fruitis Theifus (Team Plum Smugglers) Again, another bus with similar features like the aforementioned bus. Ths solid stripes and sleek design appears to be professionaly done in which the vertical panel of purple creates a horizontal racing stripe, making the bus appear faster.
---
|Back|Home|Next|