What a good time! With a nice ride through the "hood", and a quick shower, we moseyed on over for the shuttle stop. While we were getting shruggs from drivers saying that there's "no vacancy", a fellow neighbor told us that we could catch a ride on his boat to get to the Surf Ballroom, just give him a half-hour. "Lulu" and Scott decided to bike the whole mile as all of us decided it wouldn't hurt to wait a half-hour.
We came back a half-hour later, hopped in the nice gentleman's speedboat and gave us a grand tour of houses on the lake. (Who lived where and how much the houses cost.) A wonderful ride altogether.


---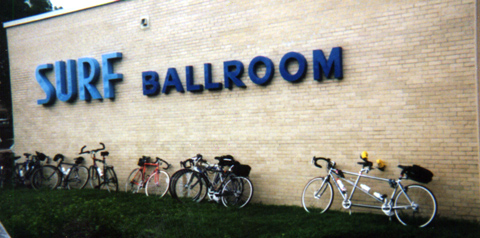 We ended up a block from the Surf Ballroom, a shrine to Buddy Holly, Big Bopper, and Ritchie Valens, as well as photos from other performers who've played in the ballroom before.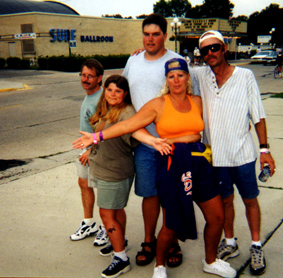 ---
We journeyed into the main ballroom where Vic Ferrari and his band was playing various different songs from different fields (oldies, country, 80's, rock, classic rock, etc.) This is the first time we had all 12 members meet and dance the night away. Definitely, one for the books.